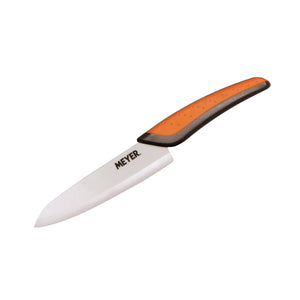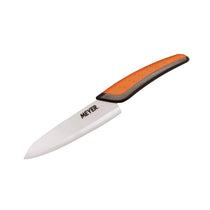 Meyer Heavy Duty Ceramic Knife 15cm
Why buy the Meyer Heavy Duty Ceramic Knife 15cm?
Just a little less harder than the hardest element and remarkably sharp: Ceramic being the hardest mineral after diamonds, is impossible to blunt. It has 10 times longer retention of sharpness of the blade as compared to a stainless-steel knife.

Hygienic and easy to clean: The dense surface of the ceramic blade makes the clean-up extremely easy. A quick rinse in warm water will get your ceramic 

Chemically inert blade: The non-porous nature of Meyer Advanced Ceramic blade makes it impossible to absorb odor from food, keeping the taste pure. Now cut and store apples, salads, tomatoes, etc. without worrying for the taste being altered.
Rust-resistant: As the blade does not react with the acids in food, the blade virtually loses its tendency to rust and corrode.
Lighter in weight than stainless-steel: Light weight reduces the strain on arms and fingers while cutting.

Perfect for details: Ceramic Knives are great to carry out delicate tasks. The acutely sharp edge produces wafer thin slices of fish, meat, fruits or veggies.
Meyer Advanced ceramic knife is very well balanced which gives a very sturdy and adept feel while cutting.
ADDITIONAL INFORMATION

| | |
| --- | --- |
| Utility | For cutting and chopping |
| Material | Ceramic |
| Colour | Red |
| In-Box Contents | 1 Ceremic Knife 15cm |