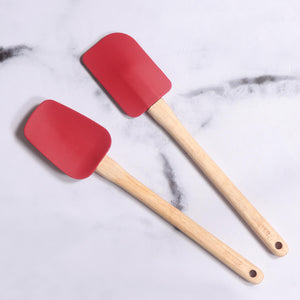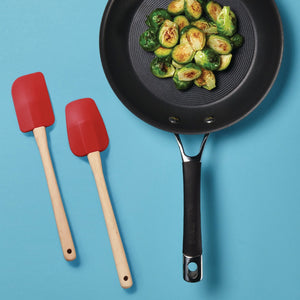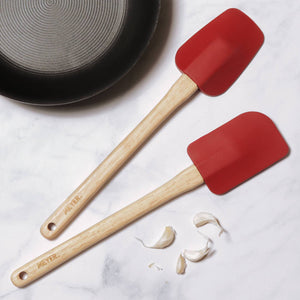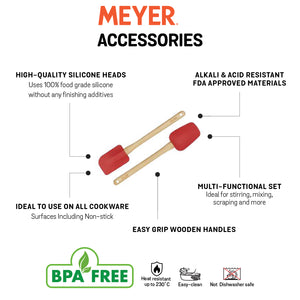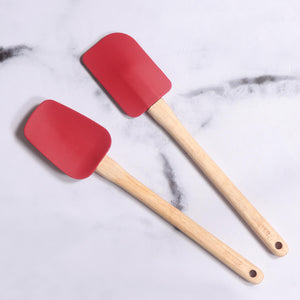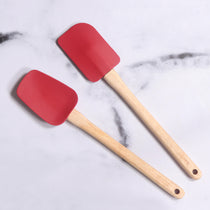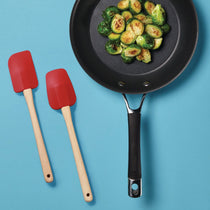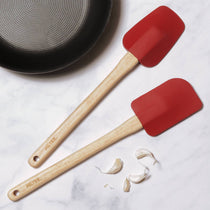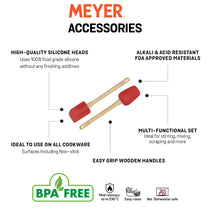 Meyer 2 Piece Set - Heavy Duty Silicone Spoonula and Spatula
Why buy the Meyer Heavy Duty Silicone Spoonula Spatula?
Exceptional Quality: The two-piece set features eco-friendly rubberwood handle and high-quality silicone head. 

Silicone rubber is inert. It does not emit fumes of any sort, leach into food, or pose any health risks according to the FDA.

BPA Free also 

Alkali & Acid resistant and 100% safe: Made from US FDA approved materials, it is safe for you and your family
Multifunctional: Ideal for stirring, folding, mixing, scraping, lifting, turning and a lot more
User-friendly: Large flexible heads perfect for prepping
Convenient to store: The sleek set comes with a hanging hole for comfortable storage
Multi-purpose: Ideal to be used on all cookware surface including non-stick
Lightweight yet sturdy: For an easy and comfortable grip
Heat resistant: It can withstand heat up to 230°C
Incombustible rubberwood handle: Reduces the risk of handle heating up and melting and therefore protecting from potential burns

Meyer uses 100% food grade silicone without any finishing additives
Warning: DO NOT leave this Silicone utensil unattended in a hot pan
ADDITIONAL INFORMATION

Product Code
47624-C

Country of Origin
China

Material
Nylon

Product Dimensions
Length: 34.5cm
Width: 7cm
Weight (Kilograms): 0.173

Colour
Red

Common/Generic Name
Meyer 2 Piece Set - Heavy Duty Silicone Spoonula and Spatula

Seller/Importer Name
Meyer Housewares India Private Limited
Add: 30, Link Road, Lajpat Nagar-3, New Delhi- 110024

Package Contents
1 Nylon Spoonula And Spatula, Use and Care Instructions

SHIPPING AND DELIVERY

The date of delivery is usually between 3-4 working days. However, this can vary according to the location, climatic conditions and area distress

ASK A QUESTION

We are open to your questions. Whether you want to understand more about your cookware, master the technique of cooking, our Supper Team is here to help you! Share your doubt, query or concern!