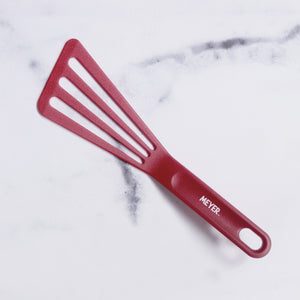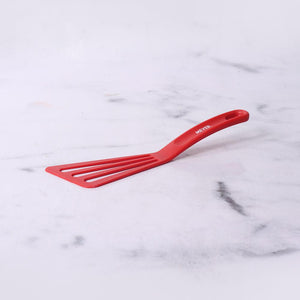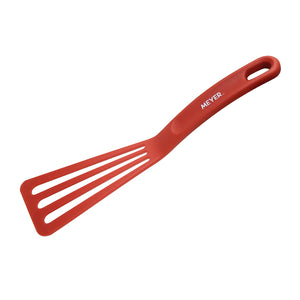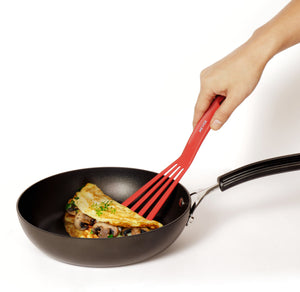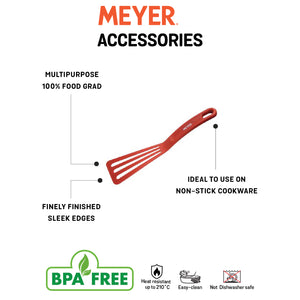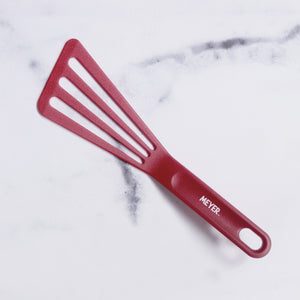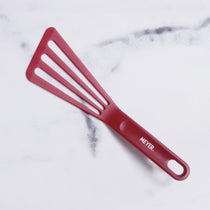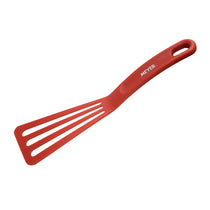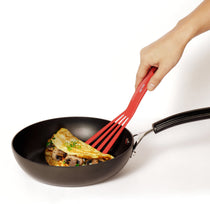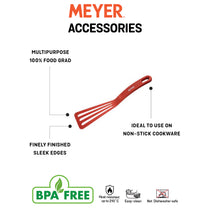 Meyer Heavy Duty Small Nylon Slotted Turner
Why buy the Meyer Heavy Duty Nylon Slotted Turner?
REVOLUTIONARY DESIGN: Crafted to make turning, lifting & flipping super comfortable.
MULTIPURPOSE: Ideal to lift anything from grills to delicate fish without breaking them apart
HEAVY-DUTY CONSTRUCTION: Strong core with long, flexible nylon head.
100% FOOD GRADE: The material meets USA FDA standards. EASY TO STORE: The hole at the end makes it convenient to hang and store.
EASY TO CLEAN: This odor resistant and dishwasher safe turner is perfectly hygienic.
HEAT RESISTANT: It is heat resistant to 210 deg C.
COMPACT & COMFORTABLE: Ideal to be used in cookware of any size
Warning: DO NOT leave this nylon utensil unattended in a hot pan
ADDITIONAL INFORMATION

Product Code
47628-C

Country of Origin
China

Material
Nylon

Product Dimensions
Length: 25cm
Width: 7cm
Weight (Kilograms): 0.047

Colour
Red

Common/Generic Name
Meyer Heavy Duty Small Nylon Slotted Turner

Seller/Importer Name
Meyer Housewares India Private Limited
Add: 30, Link Road, Lajpat Nagar-3, New Delhi- 110024

Package Contents
1N Nylon Slotted Turner, Use and Care Instructions

SHIPPING AND DELIVERY

The date of delivery is usually between 3-4 working days. However, this can vary according to the location, climatic conditions and area distress

ASK A QUESTION

We are open to your questions. Whether you want to understand more about your cookware, master the technique of cooking, our Supper Team is here to help you! Share your doubt, query or concern!