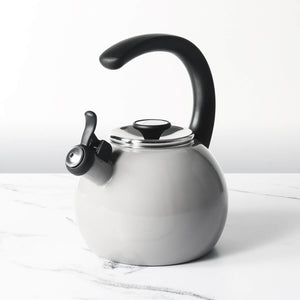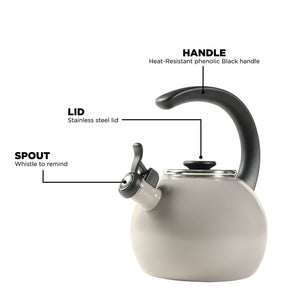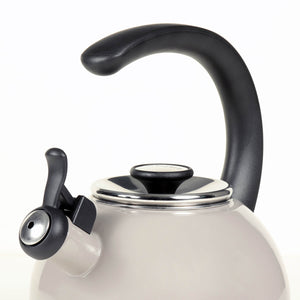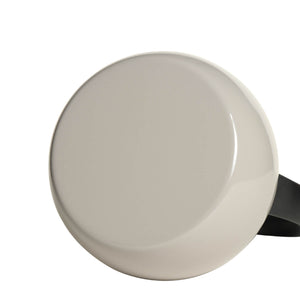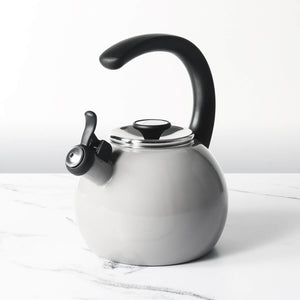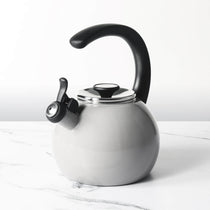 Circulon Enamel On Steel Whistling Tea Kettle 1.9 Liters, Gray
₹ 3,160.00
(20% Off)
Regular price Save ₹ 785 MRP ₹ 3,945.00 Sale price
Inclusive of all taxes
Why buy the Circulon Enamel On Steel Whistling Tea Kettle 1.9 Liters, Gray?
Clear and Loud Whistling: The

 

kettle

 

releases a loud (but pleasant) whistle as soon as the water boils that prevents water from drying
Exceptional capacity: The capacious and drip-free teakettle can heat up to 6/8 cups of water-saving time and energy.
Classy appearance: Aesthetically designed 

kettle

 

adds a radiant touch to your kitchen and spruces up the look of your tea table.
Easy to handle: The

 

kettle

 

features a heat-resistant phenolic grip that allows fuss-free, one-hand operation
Effortless pouring: Convenient squeeze-and-pour action integrates the spout lever right into the handle for easy one-hand pouring.

 

It features

 

a secured and tightly closed spout for added comfort.
High on Hygiene: The

 

kettle

 

features a non-porous surface that is stain-resistant, odorless, and bacteria-free
Sturdy & Safe: Premium

 

Enamel on stainless steel, food-grade, and BPA-free, the

 

kettle

 

is rust and dent resistant.
Compatible with all cooktops: Suitable for any heat source including induction.
Easy Maintenance: The teakettle's bright enamel surface makes cleaning super easy
Durable: The robust build adds life to the teakettle. It also comes with a limited lifetime warranty
ADDITIONAL INFORMATION

Product Code
48169

Country of Origin
Indonesia

Utility
For boiling and serving hot beverages

Material
Enamel on steel

Lid Material

Stainless steel lid

Warranty
Limited Lifetime Warranty

Item Shape
Round

Handle Type
Phenolic Black handle

Nozzle Type
Sandwich whistle with nylon cap

Product Finish
Gray color enamel on steel

Product Dimension
Diameter: 20cm
Height: 26cm
Weight (Kilograms): 1.06
Volume (Litres ): 1.9

Dishwasher Safe : No

Suitable Cooktops
Gas,Electric & Induction

Colour
Gray

Common/Generic Name
Circulon Enamel On Steel Whistling Tea Kettle 1.9 Liters, Gray

Seller/Importer Name
Meyer Housewares India Private Limited
Add: 30, Link Road, Lajpat Nagar-3, New Delhi- 110024

Package Contents
1N Kettle, Use & Care Instructions, Warranty card

SHIPPING AND DELIVERY

The date of delivery is usually between 3-4 working days. However, this can vary according to the location, climatic conditions and area distress

WARRANTY

Lifetime Warranty

This certifies that your product is warranted to be free from defects in material and craftsmanship under normal household use for the lifetime. The warranty does not cover damage from abuse, commercial use, neglect, abnormal wear or tear, overheating, or any use not in accordance with the cookware instructions provided with the product.
PRODUCT DESCRIPTION
Clear Whistle:
A gleaming tea kettle that emits audible (and melodious) whistles to signal that the water is ready for brewing. It saves you from the hassle of standing idly and waiting for the water to boil or setting the timer.
Built-to-last
Made from sturdy and food-grade stainless steel, this kettle features a non-porous surface making it stain-resistant, odourless, and bacteria free. The elegant kettle is a beautiful addition to your tea time and will beautifully match any type of kitchen decor.
High-end features
The eye-catching phenolic handle is cool to touch and comfortable to hold for easy one-hand operation. It also features a convenient spout cap that can be flipped for easy, drip-free pouring.