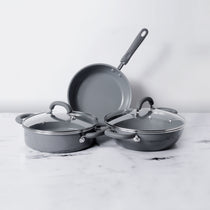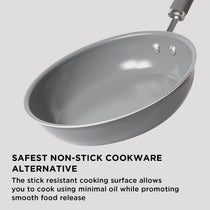 Meyer Anzen Ceramic Coated Cookware 5pcs Set - 24cm Frypan + 24cm Sauteuse with Interchangeable Lid + 26cm Kadai with Lid
₹ 8,620.00
(20% Off)
Regular price Save ₹ 2,155 MRP ₹ 10,775.00 Sale price
Inclusive of all taxes
USE CODE : EXTRA15 FOR ADDITIONAL 15% OFF
Why buy the Meyer Anzen Ceramic Coated Cookware 5pcs Set 24cm Frypan & 24cm Sauteuse with Interchangeable Lid, 26cm Kadai with Lid?
This set contains 24cm Frypan, a 24cm Sauteuse with Interchangeable Lid and 26 Kadai with Lid
Totally toxin-free product: No harmful chemicals used either in coating or in the manufacturing process
Innovative 'Silicone + Oxygen' Ceramic coated cookware with an Aluminum body
100% SAFE: No PTFE, No PFOA, No Lead, No Cadmium, No Nickel, No Arsenic
100% Certified: US FDA & European Food Safety Authority (EFSA) approved materials
Doesn't emit toxic fumes, whatsoever, even at high cooking temperatures
No hot spots: Thick body construction enables even and faster heat distribution to help you save fuel and effort
The superior coating promotes minimal oil cooking with the smoothest food release and easy cleanup
Extra-large 'stay cool', Germ-free Silicon handles with rivets for sturdiness and long life
Shatter-resistant tempered glass for easy and healthy cooking
Suitable for all cooktops including induction
Oven safe up to 180 degree Celsius; Dishwasher safe
1+1 year warranty
ADDITIONAL INFORMATION

Product Code
95268-T

Country of Origin
Thailand

Material
Australian Aluminium

Warranty
2 years from date of purchase

Product Dimensions
Frypan
Diameter : 24 cm
Length (handle to handle) : 43.80 cm
Overall Product Height: 10.80 cm
Internal Pan Height: 5.20 cm
Weight (Kilograms): 0.7
Capacity (Volume): 2.07 L

Sauteuse
Diameter : 24 cm
Length (handle to handle) : 37.10 cm
Overall Product Height: 14.30 cm
Internal Height: 6.35 cm
Weight (Kilograms): 1.5
Capacity (Volume): 2.85 L

Kadai
Diameter : 26cm
Length (handle to handle) : 38.40 cm
Overall Product Height: 15.30 cm
Internal Height: 7.05 cm
Weight (Kilograms): 1.6
Capacity (Volume): 3.26 L

Dishwasher Safe : Yes

Suitable Cooktops
Gas,Electric & Induction

Colour
Grey

Item Shape
Round

Common/Generic Name
Meyer Anzen Ceramic Coated Cookware 5pcs Set - 24cm Frypan, 24cm Sauteuse with Interchangeable Lid and 26cm Kadai with Lid

Seller/Importer Name
Meyer Housewares India Private Limited
Add: 30, Link Road, Lajpat Nagar-3, New Delhi- 110024

Package Contents
1N Frypan and 1N Sauteuse with 1N Interchangeable Tempered glass lid, 1N Kadai with 1N Tempered glass lid, Use & Care Instructions, Warranty card

SHIPPING AND DELIVERY

The date of delivery is usually between 3-4 working days. However, this can vary according to the location, climatic conditions and area distress

WARRANTY

2 Year Warranty

This certifies that your Ceramic cookware is warranted to be free from defects in material and craftsmanship under normal household use for 2 years. The warranty does not cover damage from abuse, commercial use, neglect, abnormal wear or tear, overheating, or any use not in accordance with the cookware instructions provided with the product.

ASK A QUESTION

We are open to your questions. Whether you want to understand more about your cookware, master the technique of cooking, our Supper Team is here to help you! Share your doubt, query or concern!
PRODUCT DESCRIPTION
Safe alternative to nonstick cookware
Ceramic cookware uses a ceramic gel made from silicone and oxygen which give you a stick resistant cooking surface. You can cook in ceramic cookware with the same amount of oil that you use in a nonstick cookware; the food will not stick and release smoothly. The non-porous surface of the ceramic cookware allows it to handle highly acidic foods without absorbing taste and odor or staining the cookware.
Excellent Heat Conductance & Endurance
Ceramic cookware matches cast iron in terms of heat distribution, retention and endurance. The thick body construction makes heat transfer quick, even and efficient, which means you use less fuel and energy to cook your food. It can also withstand heat upto 400- 450 degree Celsius. Therefore, it is perfect for searing meats and vegetables that require high temperature.
Sauteuse handle
The kadai has loop handles that are mounted onto its side. The two large loop handles give you a full command of the kadai, enabling you to hold it comfortably while lifting it or tossing the food.
Lightweight & Easy to care
The combination of the aluminium base and the ceramic coating makes this pan lightweight in compared to cast iron cookware. Clean-up too is a breeze as the enameled finish prevents food from sticking to the surface, so you can easily wipe away any residue.