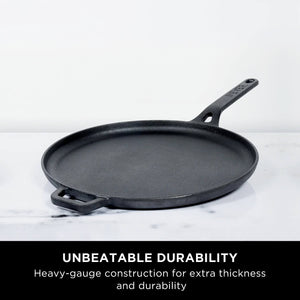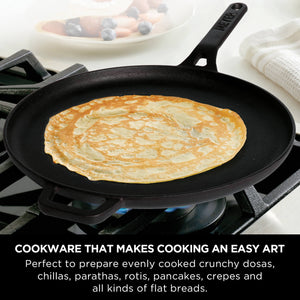 Meyer Cast Iron 2pcs Set - 25cm Grillpan + 28cm Flat Dosa Tawa
Why buy the Meyer Cast Iron Pre-Seasoned 2pcs Set - 25cm Grillpan + 28cm Flat Dosa Tawa?
Strength at its best: Heavy gauge cast iron construction that will last for ages
Naturally healthy cooking: Absolutely no coatings or chemicals used; Seasoned using 100% vegetable oil to stimulate non-stick like effect
Exceptional heat conductivity and retention: Cooks faster, Saves cooking fuel, Energy and Time
Perfect Sear Marks: Heightens the flavour and appearance of your grills with the perfect char marks.
NO SYNTHETIC OR CHEMICAL COATING – just pre-seasoned with 100% vegetable oil
Simple seasoning technique helps create a chemical-free non-stick surface over a period of time
Pure iron ore material heats quickly and evenly throughout the tawa body
Adds an authentic Indian flavour to your Paranthas, Rotis and Chillas
Hassle-free lifetime warranty
Curved surface is not suitable for induction cooktops
ADDITIONAL INFORMATION

Product Code
95247-C

Country of Origin
China

Material
Cast iron

Warranty
Lifetime Warranty

Product Dimensions

Flat Dosa Tawa
Diameter : 28cm
Length (handle to handle) : 49cm
Thickness : 0.4cm
Weight (Kilograms): 2.5

Frypan
Diameter: 26cm
Length (handle to handle) : 47cm
Width : 29cm
Total Pan Height: 7.1cm
Internal Pan Height : 5cm
Weight (Kilograms): 2.4
Capacity (Volume) : 2.7L

Suitable Cooktops
Suitable for all cooktops, including induction

Common/Generic Name
Meyer Cast Iron 2pcs Set - 25cm Grillpan and 28cm Flat Dosa Tawa

Seller/Importer Name
Meyer Housewares India Private Limited
Add: 30, Link Road, Lajpat Nagar-3, New Delhi- 110024

Colour
Black

Item Shape
Round

Package Contents
1N Flat Dosa Tawa, 1N Frypan, Use & Care Instructions, Warranty card

SHIPPING AND DELIVERY

The date of delivery is usually between 3-4 working days. However, this can vary according to the location, climatic conditions and area distress

WARRANTY

Lifetime Warranty

This certifies that your cast iron product is warranted to be free from defects in material and craftsmanship under normal household use for the lifetime. The warranty does not cover damage from abuse, commercial use, neglect, abnormal wear or tear, overheating, or any use not in accordance with the cookware instructions provided with the product.

ASK A QUESTION

We are open to your questions. Whether you want to understand more about your cookware, master the technique of cooking, our Supper Team is here to help you! Share your doubt, query or concern!