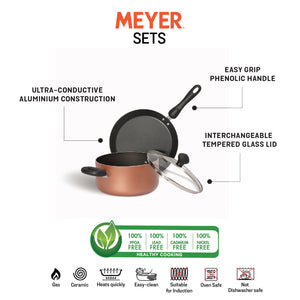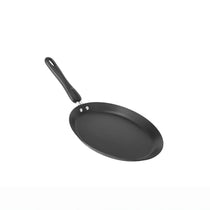 Meyer Non-Stick 3pcs Cookware Set (2.8L/20cm Casserole/Biryani Pot + 24cm Flat Dosa Tawa)
₹ 1,490.00
(67% Off)
Regular price Save ₹ 2,985 MRP ₹ 4,475.00 Sale price
Inclusive of all taxes
This set contains a 2.8L/20cm Casserole with lid and a 24cm Flat Dosa Tawa
Ultra-conductive aluminium construction
High-quality non-stick interior coating from Chemours (USA) for casserole
Interior coating from Whitford (USA) for flat tawa
Copper colour provides a metallic look to the cookware
1-Year Warranty
Shatter resistant tempered glass lid
Phenolic handles riveted for extra strength that stay cool even after prolonged heating
100% PFOA free, 100% lead free and 100% cadmium free
Suitable for gas and electric cooktops; not suitable for induction
ADDITIONAL INFORMATION

Product Code
22212-T

Country of Origin
Thailand

Material
Aluminium

Warranty
1 year from date of purchase

Product Dimensions
Length: 40.96 cm
Width: 26.67 cm
Height: 13.02 cm

Casserole
Diameter: 20 cm
Tawa
Diameter: 24 cm

Dishwasher Safe :No

Suitable Cooktops
Gas & Electric
*Not suitable for Induction

Colour
Copper

Item Shape
Round

Common/Generic Name
Meyer Non-Stick 3pcs Cookware Set (2.8L/20cm Casserole/Biryani Pot and 24cm Flat Dosa Tawa)

Seller/Importer Name
Meyer Housewares India Private Limited
Add: 30, Link Road, Lajpat Nagar-3, New Delhi- 110024

Package Contents
1N Casserole with 1N Tempered Glass Lid, 1N Flat Dosa Tawa, Use & Care Instructions, Warranty card

SHIPPING AND DELIVERY

The date of delivery is usually between 3-4 working days. However, this can vary according to the location, climatic conditions and area distress

WARRANTY

1 Year Warranty

This certifies that this product is warranted to be free from defects in material and craftsmanship under normal household use. The warranty does not cover damage from abuse, commercial use, neglect, abnormal wear or tear, overheating, or any use not in accordance with the cookware instructions provided with the product.

ASK A QUESTION

We are open to your questions. Whether you want to understand more about your cookware, master the technique of cooking, our Supper Team is here to help you! Share your doubt, query or concern!