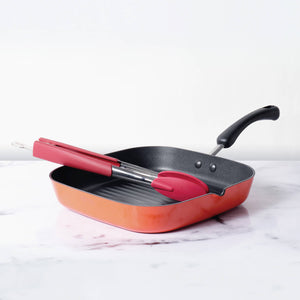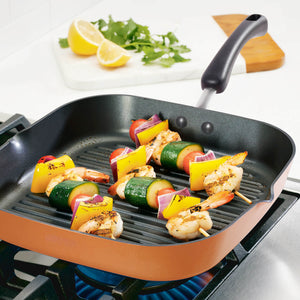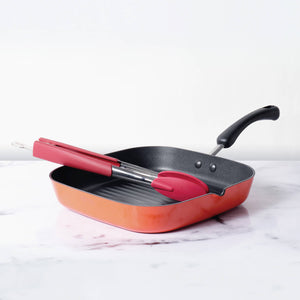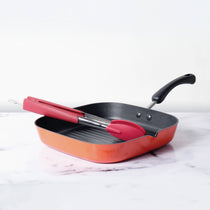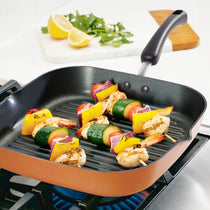 Meyer 2-Piece Set - Grillpan 28cm + 12" Silicone Tongs
Why buy the Meyer 2-Piece Set - Grillpan 28cm + 12" Silicone Tongs?
Incredibly Tough: Heavy-gauge aluminium construction with 3mm thickness for unsurpassed resistance to wear and even distribution of heat
Gorgeous grill marks: Ridges that induce great grill marks and prompt fat to drip away from the food
100% Safe: US FDA approved enamel coating that promotes superior food release and effortless clean up
Double-sided pour spouts: Perfect to remove unwanted oil and liquids or to transfer cooking juice, gravy and sauce
Comfort of use: Stainless steel phenolic handle with for strength and comfortable grasp; dishwasher and oven safe; suitable for all cooktops except induction
High-quality silicone heads: The even edges allow you to hold even the most delicate dishes with ease
High-grade Stainless-steel body: Provides a mirror finish and adds to the strength of the tongs
Silicone rubber is inert. It does not emit fumes of any sort, leach into food, or pose any health risks according to the FDA.
BPA Free also Alkali & Acid resistant and 100% food safe: FDA approved material that makes it non-reactive to food, and completely safe for consumption
ADDITIONAL INFORMATION

Product Code
95230-T

Country of Origin
Thailand

Material
Aluminium (Grillpan) and Silicone (Tongs)

Warranty
2 year from date of purchase (Grillpan)

Product Dimensions
Grillpan
Diameter: 28 cm
Length (handle to handle) : 47.90 cm
Width : 28.60 cm
Thickness: 0.3 cm
Overall Product Height: 11.20 cm
Internal Pan Height: 4.75 cm
Weight (Kilograms): 1.06
Capacity (Volume): 2.83 L

Dishwasher Safe : No

Tongs
Length: 34.5 cm
Width:4.5 cm
Height:5 cm
Weight (Kilograms): 0.264

Suitable Cooktops
Gas, Not induction

Colour
Orange and Crimson

Item Shape
Square

Common/Generic Name
Meyer 2-Piece Set - Grill pan 28cm and 12" Silicone Tongs

Seller/Importer Name
Meyer Housewares India Private Limited
Add: 30, Link Road, Lajpat Nagar-3, New Delhi- 110024

Package Contents
1N Grillpan, 1N Silicone Tongs, Use & Care Instructions, Warranty card

SHIPPING AND DELIVERY

The date of delivery is usually between 3-4 working days. However, this can vary according to the location, climatic conditions and area distress

WARRANTY

2 Year Warranty

This certifies that this product is warranted to be free from defects in material and craftsmanship under normal household use. The warranty does not cover damage from abuse, commercial use, neglect, abnormal wear or tear, overheating, or any use not in accordance with the cookware instructions provided with the product.

ASK A QUESTION

We are open to your questions. Whether you want to understand more about your cookware, master the technique of cooking, our Supper Team is here to help you! Share your doubt, query or concern!